I will show you How To Download SORA Shaders for Minecraft 1.20.2. A new shader bundle called SORA Shaders was directly influenced by ProjectLUMA. According to the creators, several of the well-liked components have been modified for even more efficiency improvements. In addition, they have incorporated a few original features and concepts to boost the shader pack's appeal even further. The reference pack undoubtedly had some issues, and the creators set out to fix them in order to produce one of the best shader packs possible. The ultimate aim of SORA Shaders is to offer a shader collection that fits the gameplay preferences of as many different types of Minecraft players as possible. This game's pixelated, vintage appearance may turn some people off. Although this is acceptable, many individuals are unaware of how Minecraft might appear.
What those folks don't realize is how beautiful Minecraft can look when used properly. One of the greatest modifications is to the water in the game environment, along with some lighting, graphic improvements, and new components. To make the water feel more realistic, a new texture has been added. You can truly feel as though you are in a more realistic gaming environment thanks to the immaculately clear seas. Some gamers prefer the standard graphics of the blue ocean, while others requested new water shaders. Whatever option you select, it's worthwhile to try out SORA Shaders' new water visual upgrade.
SORA Shaders – Screenshots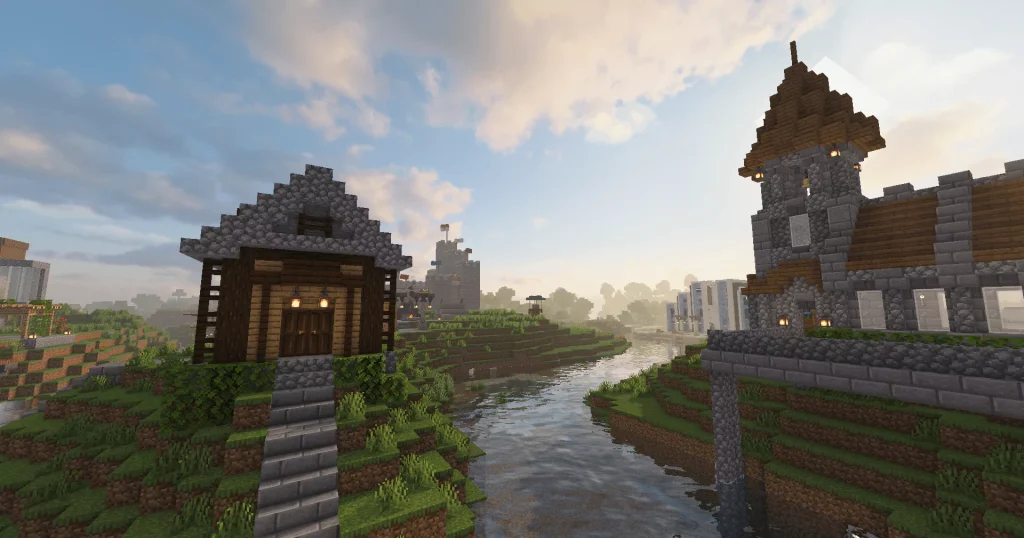 How To Download SORA Shaders for Minecraft 1.20.2
This Minecraft shaderpack is fully compatible for Minecraft 1.20.2 and the rest of the previous versions. Follow the steps below:
Let's get right into this! Scroll down until you get to the downloads section. There is the SORA Shader pack link.
You have to choose now if you want to do this the Optifine way or the Iris way. For this Minecraft Tutorial, I'll use Optifine.
There are two different links. Each of them is for something different, click on both please.
Let's download both of the files. And that is Optifine and the shaderpack itself, let me tell you what to do.
Click on the first link please.
After that, it will take you to the redirection website, when you get there, click on the link again.
You are finally on the right website where you need to be, look at the right side please.
There is a section that we will use, and that is the "Downloads".
Make sure you choose the right Minecraft version and hit "Download".
Now just take both of the files and drop it on the desktop.
Let's repeat the steps on the second file as well.
If you want more in-depth tutorial, I have on on How To Install Shaders in Minecraft. Check it out if you want.
How To Install SORA Shaders in Minecraft 1.20.2
Let's double-check if you have Optifine and Shaders on the desktop, otherwise, this won't work.
Take a look on the left-down corner of your screen, there is a Windows Search Bar. Open it.
Type in %appdata% and then hit enter.
The roaming folder will pop up.
Find ".Minecraft" folder and open it.
When you are there, scroll down to find the "shaderpacks" folder and then simply open it.
Now, take SORA Shaders 1.20.2 and drop it in there.
You may ask, what to do with Optifine? I'll show you.
Go back to the desktop and double-click on the file.
Read all the info and when you are ready, hit install.
Open the Minecraft Launcher, open it.
Choose Optifine, hit play.
Once you get to the Minecraft Menu, go to Options -> Video Settings -> Shaderpacks.
Double-click on the shaderpack that you've just installed, it will enable that.
You can now click "Done" and that is everything.
SORA Shaders — Download Links
[1.20.2] Download SORA Shaders