I will show you How To Download RedHat Shaders for Minecraft 1.20.2. The game Minecraft was innovative when it was first introduced, and it still is. The graphics in vanilla, however, have not endured well. Thankfully, because to a passionate community, Minecraft has access to a ton of fantastic resource packs and shader packs. RedHat Shaders is one of the numerous packs that seeks to improve lighting effects, reflections, clouds, sky textures, and other things. Nevertheless it makes no attempt to be groundbreaking. RedHat Shaders 1.20.2 succeeds in a number of areas where other shader packs fall short. The developer of RedHat Shaders is community member mlgimposter. Despite the fact that RedHat Shaders was released in early 2021, he has a number of previous projects to his credit and had plenty of experience developing it. This shader pack is notable for having amassed a sizable audience in less than a year. The pack outperformed several other packs that were regarded as popular with over 500,000 downloads across numerous sites where it was published.
Also, the developer included a number of lighting effects that give the game a more dramatic feel. The addition of Lens Flares, Grain, Tilt Shift, and other features has significantly enhanced Minecraft. There are also newly added effects that are connected to movement. When you move around with your character or change the camera, there is some motion blur and the Waving Hand and Waving camera effects are evident. The sky textures are another another element of the game that RedHat Shaders altered and enhanced. There are new textures for the sun, moon, and clouds that make them appear more natural. Fog and rain, as well as other atmospheric effects, have been updated to look more realistic. Last but not least, reflections have enhanced. This can be seen on many surfaces, but while looking at the water, it stands out more. The enhancement has an impact on certain objects' shadows and light absorption as well.
RedHat – Screenshots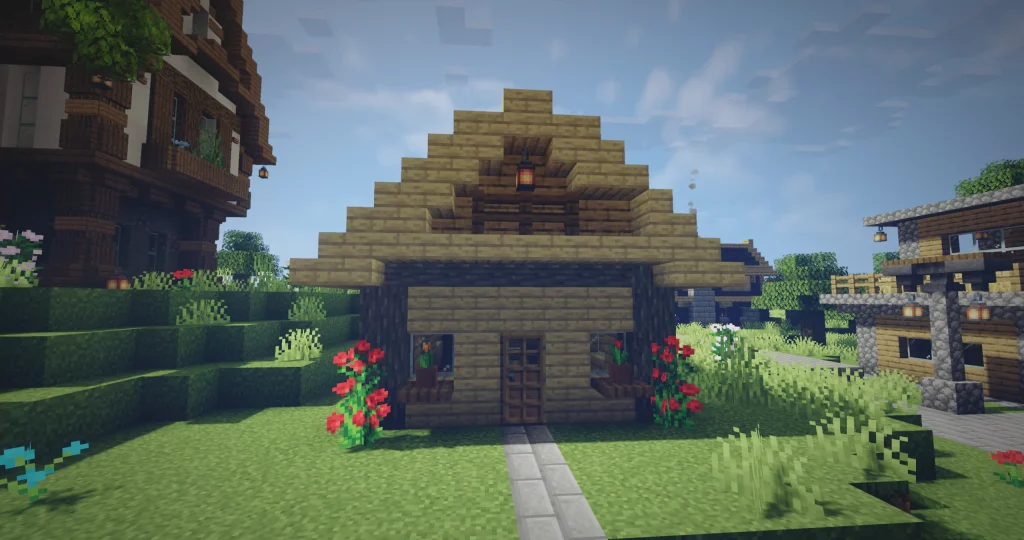 How To Download RedHat Shaders for Minecraft 1.20.2
This Minecraft shaderpack is fully compatible for Minecraft 1.20.2 and the rest of the previous versions. Follow the steps below:
Let's get right into this! Scroll down until you get to the downloads section. There is the RedHat Shaders link.
You have to choose now if you want to do this the Optifine way or the Iris way. For this Minecraft Tutorial, I'll use Optifine.
There are two different links. Each of them is for something different, click on both please.
Let's download both of the files. And that is Optifine and the shaderpack itself, let me tell you what to do.
Click on the first link please.
After that, it will take you to the redirection website, when you get there, click on the link again.
You are finally on the right website where you need to be, look at the right side please.
There is a section that we will use, and that is the "Downloads".
Make sure you choose the right Minecraft version and hit "Download".
Now just take both of the files and drop it on the desktop.
Let's repeat the steps on the second file as well.
If you want more in-depth tutorial, I have on on How To Install Shaders in Minecraft. Check it out if you want.
How To Install RedHat Shaders in Minecraft 1.20.2
Let's double-check if you have Optifine and Shaders on the desktop, otherwise, this won't work.
Take a look on the left-down corner of your screen, there is a Windows Search Bar. Open it.
Type in %appdata% and then hit enter.
The roaming folder will pop up.
Find ".Minecraft" folder and open it.
When you are there, scroll down to find the "shaderpacks" folder and then simply open it.
Now, take RedHat Shaders 1.20.2 and drop it in there.
You may ask, what to do with Optifine? I'll show you.
Go back to the desktop and double-click on the file.
Read all the info and when you are ready, hit install.
Open the Minecraft Launcher, open it.
Choose Optifine, hit play.
Once you get to the Minecraft Menu, go to Options -> Video Settings -> Shaderpacks.
Double-click on the shaderpack that you've just installed, it will enable that.
You can now click "Done" and that is everything.
RedHat Shaders — Download Links
[1.20.2] Download RedHat Shaders