I will show you How To Download Exposa Unique Shaders for Minecraft 1.19.4. The color spectrum is properly balanced as the day transitions into the sunset, and at night the sky will receive updated stars with a few faint, foggy layers. The little fog is more concentrated in the lowlands and is less evident at high altitude. The pack will display the optimal outcomes for AMD or nvidia GPU. With the exception of Apple, PCs with weak GPUs will hardly feel the change. Speaking of graphics, a large number of Shaderpacks have been developed and made available to the Minecraft community. However, most of them are still lagging despite having the primary aim and goal of upgrading the game's original aesthetics. In other words, they haven't lived up to the lofty standards set for them. You should use every effort to stay away from such Shaderpacks as a Minecraft player. This is due to the frustration that using them can cause.
Finding a shader pack that will satisfy your needs and provide you an immersive gaming experience is not simple. In the worlds of the players, it introduces many intriguing aspects. Are you concerned that your game's graphics will appear extremely shabby and basic? Do you want to know how much can be improved without making any concessions? Are you aware that just a small number of Shaderpacks or mods, such as Exposa Unique Shaders 1.19.4, can be useful? Both seasoned gamers and newcomers in the Minecraft community have heaped praise on this mod. Of course, one of the characteristics of a top-notch shader pack is its capacity to improve the visual appeal of your world.
Exposa Unique Shaders – Screenshots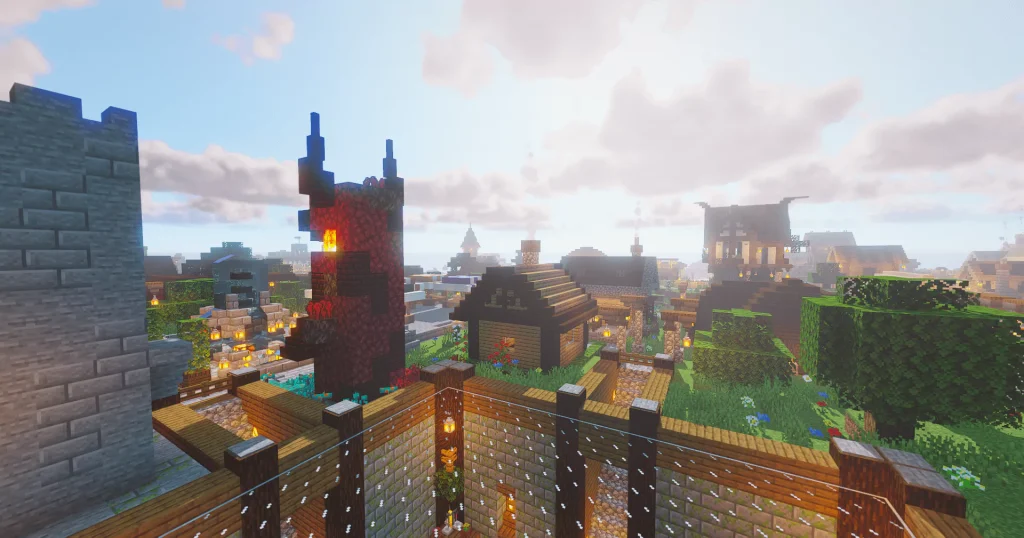 How To Download Exposa Unique Shaders for Minecraft 1.19.4
This Minecraft shaderpack is fully compatible for Minecraft 1.19.4 and the rest of the previous versions. Follow the steps below:
Let's get right into this! Scroll down until you get to the downloads section. There is the Exposa Unique Shaders link.
You have to choose now if you want to do this the Optifine way or the Iris way. For this Minecraft Tutorial, I'll use Optifine.
There are two different links. Each of them is for something different, click on both please.
Let's download both of the files. And that is Optifine and the shaderpack itself, let me tell you what to do.
Click on the first link please.
After that, it will take you to the redirection website, when you get there, click on the link again.
You are finally on the right website where you need to be, look at the right side please.
There is a section that we will use, and that is the "Downloads".
Make sure you choose the right Minecraft version and hit "Download".
Now just take both of the files and drop it on the desktop.
Let's repeat the steps on the second file as well.
If you want more in-depth tutorial, I have on on How To Install Shaders in Minecraft. Check it out if you want.
How To Install Exposa Unique Shaders in Minecraft 1.19.4
Let's double-check if you have Optifine and Shaders on the desktop, otherwise, this won't work.
Take a look on the left-down corner of your screen, there is a Windows Search Bar. Open it.
Type in %appdata% and then hit enter.
The roaming folder will pop up.
Find ".Minecraft" folder and open it.
When you are there, scroll down to find the "shaderpacks" folder and then simply open it.
Now, take Exposa Unique Shaders 1.19.4 and drop it in there.
You may ask, what to do with Optifine? I'll show you.
Go back to the desktop and double-click on the file.
Read all the info and when you are ready, hit install.
Open the Minecraft Launcher, open it.
Choose Optifine, hit play.
Once you get to the Minecraft Menu, go to Options -> Video Settings -> Shaderpacks.
Double-click on the shaderpack that you've just installed, it will enable that.
You can now click "Done" and that is everything.
Exposa Unique Shaders — Download Links
[1.19.4] Download Exposa Unique Shaders