I will show you How To Download Creator Pack Texture Pack for Minecraft 1.20.2. Minecraft's CreatorPack resource pack has only been available for a short while at the time of writing, but the minecraft community has already given it a lot of attention and appreciation. It was created by the creatorLabs team, who have been working hard and are still working hard to create packs like this while remembering to routinely update their prior packs. The CreatorPack resource pack 1.20.2's rapid rise to popularity can be attributed to a few factors. To begin with, it was made by the same group of designers behind 3D CreatorCraft and 3D Seasons collections. It's absolutely a good idea to test out this Minecraft texture pack. This time, creatorLabs chose to develop their own default themed pack, and, let's face it, they did a fantastic job at it.
We're delighted that CreatorPack has been made available because it is a beautiful resource pack. It contains smooth, clean, and detailed textures as opposed to the plain vanilla textures. Your buildings will look fantastic with this set, regardless of their style. Compared to the standard 16×16 resolution of vanilla Minecraft, the textures in creatorLabs' CreatorPack have a resolution of 32×32. The packs' enhanced degree of detail is primarily due to a higher resolution. Don't forget that an average PC is required to run this pack without experiencing framerate problems.
Creator Pack – Screenshots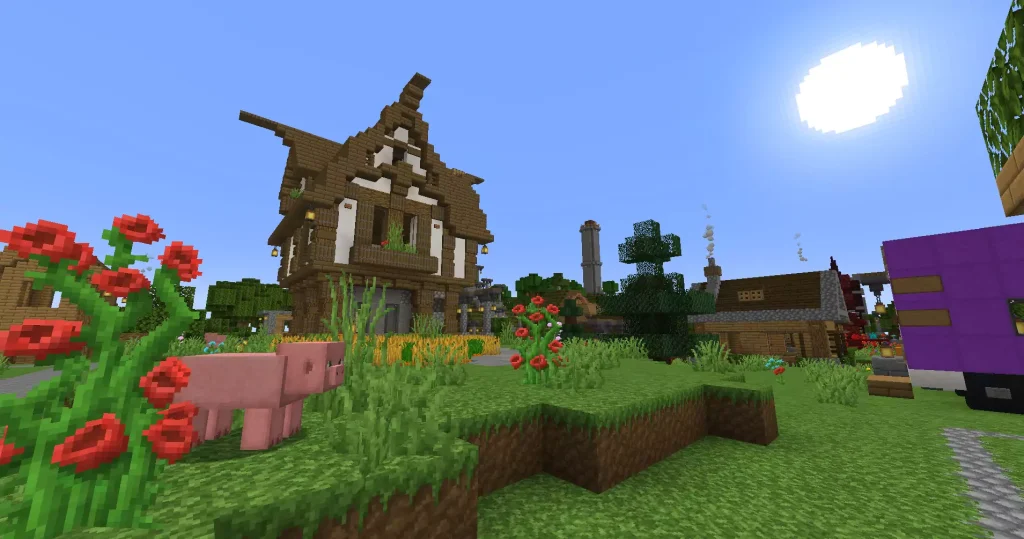 How To Download Creator Pack Texture Pack for Minecraft 1.20.2
This Minecraft Resource Pack is fully compatible with Minecraft 1.20.2. You don't have to worry, it will work just fine.
Let's start. Scroll down until you get to the download section where you find the Creator Pack download link and Optifine HD link as well.
In case you are wondering "Why Optifine", well most of the Minecraft Texture Pack requires you to have this mod.
There is in-depth tutorial on How To install Texture Pack in Minecraft on my website, check it out.
When you get to the download section, download both files. Let me show you how.
Simply click on the link and then it will take you to the redirection website.
Now just click on the link again, that's all.
After all these steps, you are finally on the website that I want you to be on. Look on the right side.
As you can see, there is a download section, hit download.
Just wait for the file and then take it and drop it on the desktop.
How To Install Creator Pack Texture Pack in Minecraft 1.20.2
We are slowly coming to an end. Make sure you have Minecraft Texture Pack on the desktop.
Let's get to the roaming folder now!
Open the Windows Search Bar, it is on the left down corner of your screen.
When you open it, make sure you type in %appdata% and then just hit enter.
Do this and it will open the roamign folder. You should now see ".Minecraft" folder, open it.
Let's scroll down now to find the "resourcepacks" folder, open it.
Just take the Creator Pack Resource Pack 1.20.2 and then drop it in the folder.
Let's install Optifine now.
Double-click on the file and agree with the terms. Hit install.
Open up the Minecraft Launcher and choose Optifine, hit play.
When you are in the menu, go to the "Options " -> "Resource Packs".
The pack will be in the left window. You should transport it to the right window.
Hover over it and click on the arrow to the right.
If you get the message "it's outdated" you don't have to worry, it will work just fine.
Click "Done" and enjoy!
Creator Pack Texture Pack – Download Links
[32x] [1.20.2] Download Creator Pack Resource Pack