Let me show you the Best Optifine Settings to Boost Minecraft FPS 1.20.3. Optifine is a cool Minecraft Mod that will enhance the performance. With Optifine, you will be able to get a high performance, boost FPS and also shaders! Yes, you can have shaders in the Minecraft 1.20.3 with Optifine. Let's get right into this amazing tutorial.
How To Install Optifine 1.20.3
It will be super easy. First of all, download the Optifine for Minecraft 1.20.3.
Take the file and drop it on the desktop.
Go to the Windows Seach Bar.
Type in %appdata% and hit enter (This will open up the roaming folder).
Find Minecraft and in there scroll to the versions.
Now double-click on the Optifine and a new window will appear.
Hit "Install".
Now check the versions folder if you have Optifine 1.20.3 in there.
Enjoy the Optifine and let's continue.
Best Optifine Settings To Boost Minecraft FPS 1.20.3
I will tell you all the settings that you should use in order to get the best FPS boost in Minecraft. Let's get right into this.Open the Minecraft launcher and choose Optifine 1.20.3 and then hit play. Once you are in the game, go to the options menu -> video settings.
Step by step for having the Best Optifine Settings for Minecraft
Video Settings
Graphics: Fast

This will give you overall better quality and FPS

Smooth Lighting: OFF

Will speed up the gameplay

Dynamic Lights: OFF
Shaders: Disable it

I recommend you not to use the Shaders if you want to have the best FPS in the game.

Render Distance: 10 chunks

This is totally fine, you don't need more.

Simulation Distance: 8 chunks
Max Framerate: Unlimited
Quality Settings
Be patient and follow the guide right now, the Quality is a crucial in the Optifine Settings for FPS. Improve FPS by having this:
Mipmap levels: OFF

This will allow you to alter the distance

Anisotropic Filtering: OFF
Emissive Textures: OFF
Better Grass: OFF
Custom Fonts: OFF
Connected Textures: OFF
Custom Sky: ON
Custom Entity Models: ON
Better Snow: OFF
Custom Colors: OFF
Natural Textures: OFF
Custom Items: ON
Details Settings
Another critical Optifine Settings to Increase Framerate is the Detail Settings
Clouds: OFF
Trees: Fast
Sky: OFF
Sun & Moon: OFF
Fog: OFF
View Bobbing: ON
Vignette: Default
Rain & Snow: Default
Stars: OFF
Swamp Colors: ON
Alternate Blocks: ON
Biome Blend: OFF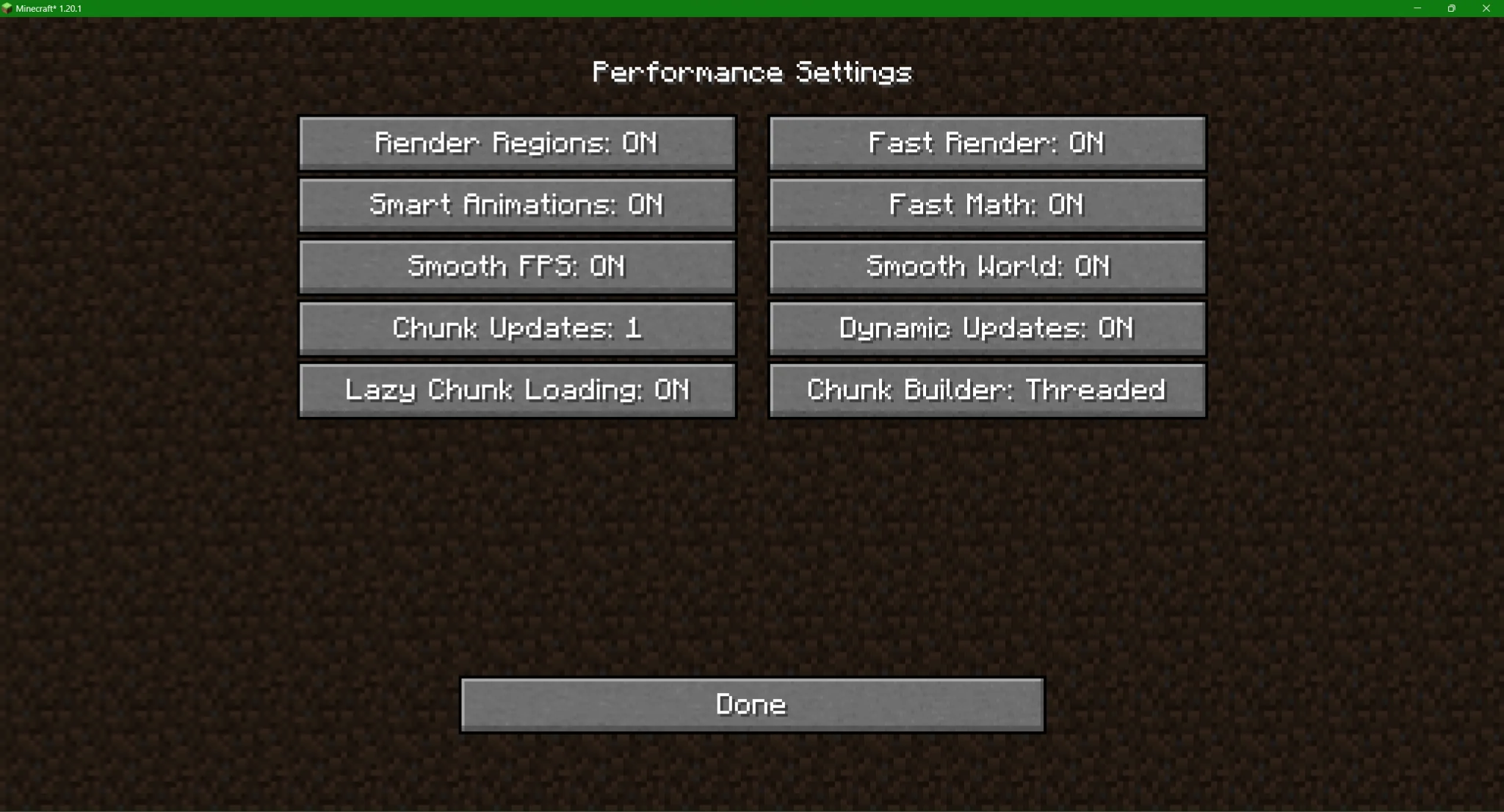 Performance Settings
Follow all of these settings to get the best FPS
Render Regions: ON
Smart Animations: ON
Smooth FPS: ON
Chunk Updates: 1
Lazy Chunk Loading: ON
Fast Render: ON
Fast Math: ON
Smooth World: ON
Dynamic Updates: ON
Chunk Builder: Threaded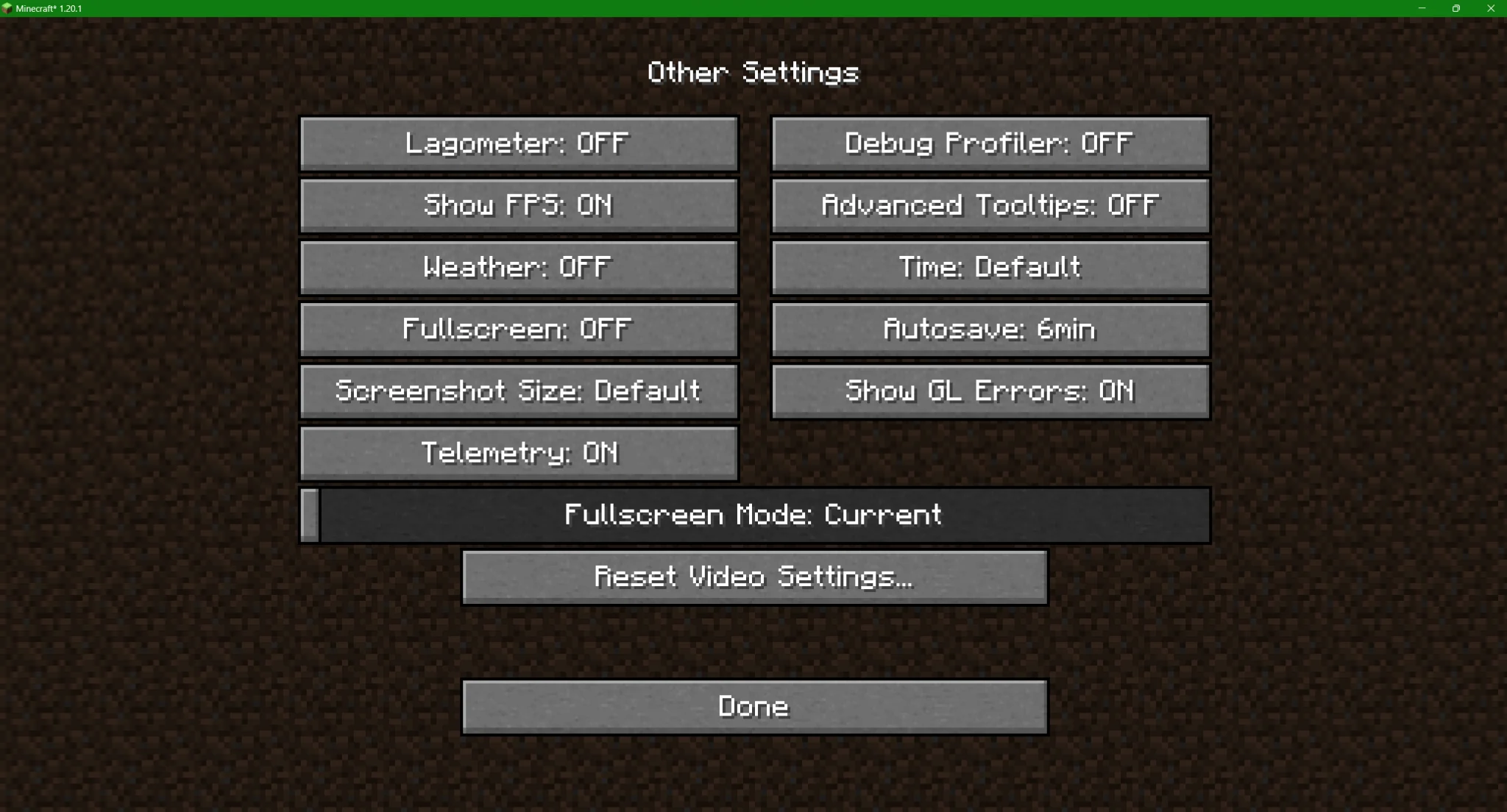 Other Settings
You will be able to easily regulate FPS drops with these settings.
Lagometer: OFF
Show FPS: ON
Weather: OFF
Fullscreen: OFF
Telemetry: ON
Debug Profiler: OFF
Advanced Tooltips: OFF
Time: Default
We are at the end guys! This is the Optimal Optifine Settings for FPS! You may sacrifice the game quality in order to have higher FPS. But that is totally ok.